IG is a British-origin broker specializing in financial derivatives trading services, especially CFDs, Forex, and Futures.
IG history
Broker founded in 1974 in London by Stuart Wheeler, an entrepreneur, financier, and even political activist.
It was born under the brand name IG Index, its brand evolved but always through the initials IG, which correspond to the English words Investor Gold. At that time, they gave the opportunity to buy gold as an index instead of the asset itself, hence the name.
The year 2000 was an important year in the company's development, as with the turn of the century, IG changed its name to IG Group Plc and started trading on the London Stock Exchange.
Starting from this year 2000, a period of expansion begins. In 2002, it starts operating in Australia. During this period, it tries to enter the US market, but the legislation does not allow it to operate with its main services, CFDs and spread betting.
2012 is another critical year in the development of the company, as it consolidated its business in the UK under a single brand, IG, thus dropping only the initials.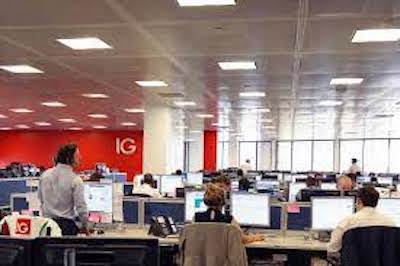 Operational units
With the rebranding to IG also came a restructuring, and the company began operating with two business units:
IG Markets, which offers CFDs
IG Index which offers spread betting
IG currently
It is one of the world's largest financial intermediaries, with a presence in 20 countries, a customer base of over 381,000, 2,500 employees, and operations on all five continents, with headquarters in London.
The current IG Group CEO sice October 2018 is June Yee Felix
June Yee Felix has been instrumental in the Company's evolution as a leading global fintech. Under her leadership, the Group has achieved significant geographic and product diversification and growth in key markets like Japan and growth via strategic acquisitions such as tastytrade, a leading, US-based trading ecosystem.
Prior to her current role, she served as a non-executive director of the Company from 2015.
IG regulation
IG Markets is regulated by the Financial Conduct Authority (FCA), the British organization in charge of supervising financial activities, with reference number. 195355
What is the Financial Conduct Authority?
The Financial Conduct Authority (FCA) is the organisation responsible for the regulation and oversight of the financial markets and financial service firms in the UK. The FCA protects consumers, keeps the financial services industry stable and promotes healthy competition between different firms within the sector.
IG stock price
IG Group is listed on the London Stock Exchange.
To check the real-time value of the stock, access IG Group Holdings PLC

IG key markets
Offers the possibility to invest in more than 18,000 markets.
Shares
Indices
Forex
Commodities
ETFS
More opportunities:
Options
Futures
Spot
IPOs
IG ways to trade
Spread beating
Spread betting is a way to take advantage of opportunities on rising or falling markets – without having to buy the underlying assets.
CFDs
Trade CFDs to speculate on whether an asset's price will move up or down – without having to own the asset.
18,000+ markets
Free up your capital
Go short or long
---
If you are considering to trade with CFDs, ETFs… check our broker comparison
---
How to trade with IG
IG Group 2022 in numbers
Key performance highlights*
See how we've delivered against some of our key performance indicators over the past five years.
* All numbers are presented on a statutory basis. FY22 and FY21 are on a continuing basis, excluding Nadex. Years prior to this have not been restated.
1 On an adjusted basis, total revenue was £967.3m (FY21: £845.5m)
2 On an adjusted basis, profit before tax was £494.3m (FY21: £473.6m)
3 On an adjusted basis, profit before tax margin was 51.1% (FY21: 56.0%)
4 On an adjusted basis, profit after tax was £410.5m (FY21: £396.2m)
5 On an adjusted basis, basic earnings per share was 96.3p (FY21: 107.3p)
All information about IG financial results 2022